spicy chicken curry, nan bread with rice & peas. This simple made-from-scratch slow-cooked spicy chicken curry is delicious! Cooked in the Crock Pot to intensify the heat and flavour. Even more so if you raid that spice cabinet and make everything from scratch.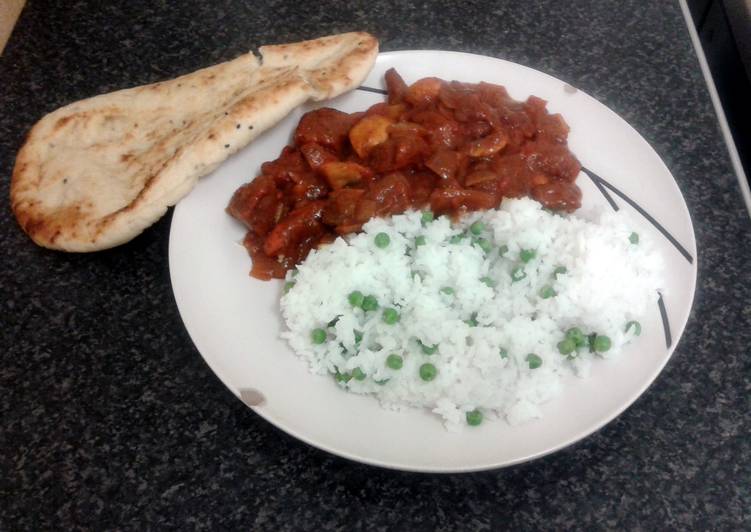 It's deliciously spiced and slightly spicy. With video - see it being made. All you need is a well stocked spice rack to bring the bold flavor to life. You can have spicy chicken curry, nan bread with rice & peas using 10 ingredients and 10 steps. Here is how you cook that.
Ingredients of spicy chicken curry, nan bread with rice & peas
You need 2 of chicken breast.
You need 1 large of red & brown onion.
It's 5 of mushrooms.
You need 1 cup of long grain rice.
It's 1/4 cup of garden peas.
It's 1 can of chopped tomato.
It's 1 of stock chicken.
It's 1 tsp of mild, medium & tikka curry powder.
Prepare 2 of pre pack nan bread ( if not confident to make fresh. like me).
Prepare 3 pinch of paprika, parsley, tumeric, dill, chilli seeds, ginger, rock salt & black whole peppercorns..
Serve over rice, and don't forget the naan bread. It's perfect for mopping up the spicy. The special curry compound known as garam masala is the key to this vigorous chicken, onion and green chile curry. I have had RAVE reviews when I made it served over rice --in fact when I made it for a person from India he said it was just "like home".
spicy chicken curry, nan bread with rice & peas step by step
wash & pat dry chicken. cut into chunky cubes. cover chicken in all herbs & spices..
pre heat pan, chop both onions and put into pan. once browned add the chicken..
start your rice. add enough water so it doesnt stick together.
add mushroom to the chicken, once brown add chopped tomatos (optional - tomato with garlic).
add water to chicken stock and stir well. add to the chicken and bring to the boil..
start cooking garden peas add pinch of sugar & salt..
once chicken curry is boiling reduce heat and simmer for 20 minutes. in this time your peas should be done, drain & cover with foil..
once your rice is done, drain, add pinch of parsley, salt & pepper. then stir you peas thru..
now your curry is ready rest for 3 minutes & serve up with your rice..
add a nan bread or onion bhaji if you need more... enjoy.
Reviews for: Photos of Spicy Chicken Curry. Serve Chicken Curry over basmati rice with some good naan bread to make it a meal. Some curries can be quite spicy and others quite mild. For this specific recipe, I would rate Chicken Curry with thigh meat: Thigh meat will work great instead of breast meat (use boneless skinless and adjust. This easy chicken curry recipe from Delish.com comes together faster than it takes the takeout guy And it's primarily comprised of ingredients you probably already have on hand—chicken, onions Or check out our easy guide for how to cook rice and make yourself a perfect fluffy bowl of the good stuff.