Chatti Pathiri.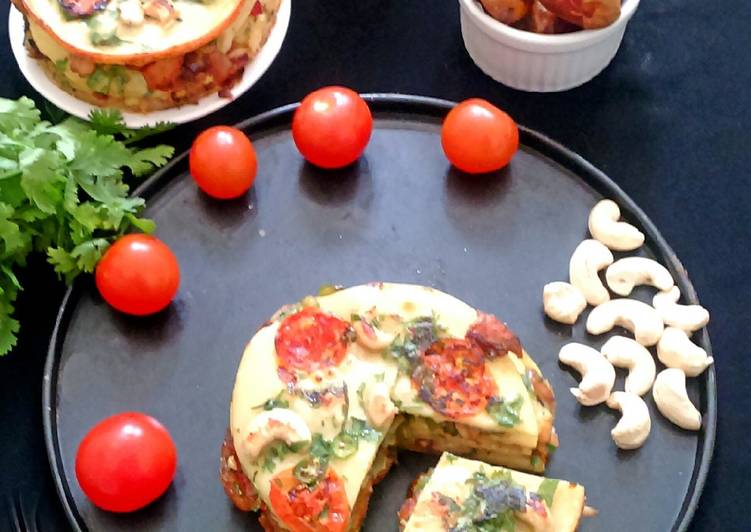 You can cook Chatti Pathiri using 26 ingredients and 41 steps. Here is how you achieve that.
Ingredients of Chatti Pathiri
You need 1 cup of All purpose flour or Maida.
You need 2 of large Eggs.
It's 1 cup of Water(approximately).
You need as required of Salt.
You need as required of Cooking oil to make the pancakes.
You need of For the Stuffing.
It's 1 cup of boneless Chicken (cut into thin strips).
Prepare 2 of medium sized Onion (thinly sliced).
It's 1 cup of thinly sliced red and green Capsicum (optional).
You need 2 of medium sized chopped green Chilli.
Prepare 1/2 teaspoon of Ginger-Garlic paste.
You need 1 teaspoon of Kashmiri chilli powder.
Prepare 1/4 teaspoon of Turmeric powder.
It's 1/2 teaspoon of Garam masala powder.
It's 1 tablespoon of Cooking oil+1 teaspoon more.
Prepare 2 tablespoon of chopped Coriander leaves.
Prepare 2-3 tablespoon of grated Cheese.
Prepare of For the coating.
Prepare 4 of Eggs.
Prepare 1/4 cup of Milk.
It's 2 tablespoon of chopped Coriander leaves.
It's 1 of green Chilli chopped.
It's 1 pinch of Salt.
Prepare of For the topping.
It's 5-6 of sliced Cashew nut.
It's 5-6 slices of Tomato.
Chatti Pathiri instructions
Take boneless chicken pieces in a dish and add turmeric powder, chilli powder and salt..
Mix well and keep aside for 10 minutes..
Heat 1 teaspoon oil in a non stick pan and add the marinated chicken pieces..
Fry for 4-5 minutes until the pieces become soft and light golden brown in colour..
Transfer to a bowl and when cools a little bit, shread into small pieces with your hand..
Cut onion, capsicums, green chilli in thin pieces..
Heat again 1 tablespoon of oil in a pan and add chopped onions..
Saute onions until soft and then add ginger-garlic paste..
Add capsicum and green chillis..
Saute for 2-3 minutes and then add shredder chicken..
Stir and add garam masala powder, salt and coriander leaves..
Mix and saute until veggies become little soft and remove from heat. Stuffing is ready..
For the pancakes take 1 cup of maida in a mixing bowl..
Break 2 eggs in it..
Add salt and mix well to incorporate egg to the flour..
Slowly add water to make a batter(not too thin nor too thick). I add approximately 1 cup of water to make the batter..
For the coating break 4 eggs in a mixing bowl..
Beat and add chopped coriander leaves, chopped green chillies, milk and salt..
Mix well and keep aside..
Now start making the pancakes..
Add 2-3 drops of oil to a non stick pan and heat..
Add 1 or 2 tablespoon of batter to the pan (according to your desired shape) and spread with the back side of the spoon to make a thin pancake..
Cover and cook in low heat for a minute and then flip..
Cook the other side also for a minute and then remove..
Similarly make all the pancakes in low heat. Be sure to make them in equal size, as later we have to layer them in a pan. So they must accomodate to that pan also where we will make the layers..
Now take a pan of the size of the pancakes and grease with oil..
Take 1 pan cake and coat it with the egg mixture..
Place it to the bottom of the greased pan..
Make a layer of some prepared chicken mixture over the pancake..
Sprinkle some grated cheese.It's completely your choice whether you will add cheese or not. Traditionally cheese is not used..
Coat another pancake and place it over the cheese layer..
Like this make 3 or 4 layers, 1st coated pancake, then chicken mixture and cheese at the top.Last layer should be of pancake..
At the top add some tomato slices and cashew nuts..
Heat a big griddle or pan where you will put the arranged pancake pan..
Place the prepared pancake pan on the centre of the griddle..
Cover and cook in low heat for about 12 to 15 minutes to cook completely..
After 12 or 15 minutes remove the cover and very carefully flip the chatti pathiri..
Cover and again cook in low heat for 10 minute..
When done take a plate,place it over the pancake and carefully flip the pan. The chatti pathiri will be transferred to the plate..
If you have pancakes left then again make another pathiri following the same procedure..
Cut in small pieces and serve warm as snack with a cup of tea or during iftar in ramadan..