Brad's sweet and spicy hoisin chicken stir fry. Stir the hoisin sauce, chile paste, and soy sauce into the skillet; season with ginger, red pepper, salt, and black pepper. For chicken stir fry to beat out Girl Scout cookies for a snack, you know it has to be good! You can use any vegetable you like in this chicken stir fry, but I chose sugar snap peas because they cook up so quickly without any blanching or pre-cooking required.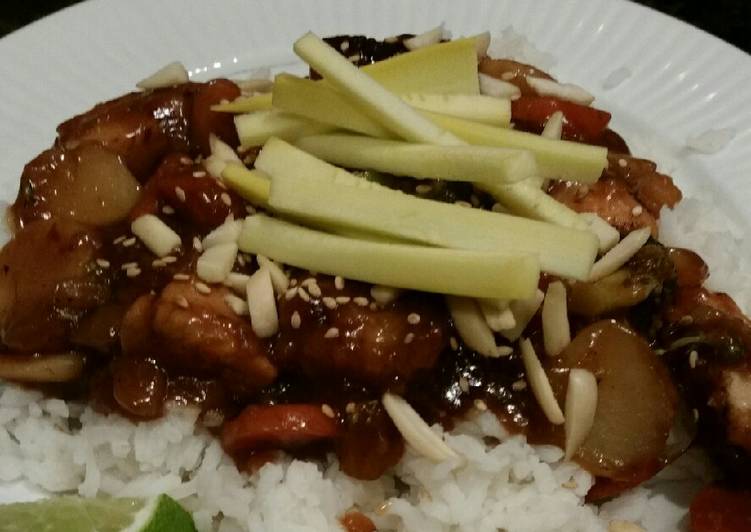 Serve the stir-fry mixture over hot cooked rice or Asian noodles. A few Chinese ingredients can lead to quick meals for busy families. Oyster sauce lends flavor to the marinade while hoisin sauce gives a sweet-and-spicy flavor to the stir-fry. You can have Brad's sweet and spicy hoisin chicken stir fry using 28 ingredients and 9 steps. Here is how you achieve that.
Ingredients of Brad's sweet and spicy hoisin chicken stir fry
Prepare of For the chicken.
You need 2 lbs of chicken breast, cubed.
Prepare 2 tbs of seasoned rice wine vinegar.
It's 2 tbs of mirin.
Prepare 1 tsp of garlic powder.
It's 1/4 cup of Cornstarch.
Prepare 1/2 cup of Flour.
Prepare of For the sauce.
You need 1 cup of beef broth.
Prepare 1/2 c of lemongrass tea, made in my prawn w/black bean sauce recipe.
It's 1/2 cup of hoisin sauce.
You need 1/2 cup of mirin.
You need 1 tsp of red chilie flakes.
You need 1/4 cup of chopped crystallized ginger.
It's 2 tbs of dark rice vinegar.
It's 1 tsp of Sriracha sauce.
Prepare of For the vegetables.
It's 4 of LG carrots sliced thin.
You need 2 of LG broccoli crowns, cut into florets.
Prepare 1 (8 Oz) of can sliced water chestnuts.
You need 1 of yellow crooked neck squash, julienne.
It's 1 tbs of butter.
You need of White wine.
You need of Other ingredients.
It's of Lime wedges.
Prepare of Prepared white rice.
You need of Toasted sesame seeds.
Prepare of Slivered almonds.
Savory Hoisin Ginger Chicken Stir Fry smothered in a dynamic sauce that your family will gobble up in minutes! Hoisin sauce tastes like an earthy, sweet-tart, savory Asian Barbecue Sauce - and it is divine. It is made with select spices, fermented soybeans, sweet potatoes, garlic, red chili peppers. Spicy Stir-Fry SauceJust a Pinch. hoisin sauce, minced ginger, rice.
Brad's sweet and spicy hoisin chicken stir fry step by step
Combine chicken, vinegar, mirin, and garlic powder in a bowl. Stir well. Cover and refrigerate for 4 hrs. Stir every 45 minutes..
Mix the sauce ingredients together. Let sit at least an hour.
Mix flour and cornstarch in a LG mixing bowl..
Dredge chicken pieces in the mixture..
Heat oil to 360 degrees in a LG frying pan 1/2 inch deep. Fry chicken pieces until brown on both sides. It's OK if they are a little undercooked in the middle. Drain on paper towels..
Heat butter in a LG wok over medium high heat. Add carrots. Saute for 4 or 5 minutes until they start to caramelize. Add broccoli and saute 3 more minutes. When broccoli starts to brown, add wine in 1/8 cup increments cover and steam. Repeat until veggies are tender..
When tender, add chicken back to pan. Saute 1 minute. Add water chestnuts and sauce. Bring to a simmer stirring often. Once at a simmer, hold for 2 or 3 minutes. Then add cornstarch slurry until it reaches desired thickness..
Plate rice, serve stir fry over top. Garnish with lime wedge, toasted sesame seeds, slivered almonds, and julienne squash..
Serve immediately. Enjoy..
Sweet-and-Spicy Chicken Stir-Fry is a quick and easy one-dish meal that will be be your family nex favorite dish. For extra heat to this chicken stir-fry, add more hot sauce, or use a lighter hand for milder flavor. Tonight's simple stir-fry combines chicken and tender bok choy in a delectably spicy, sweet sauce. On the side, as a counterpoint to the heat of the sambal oelek (a Southeast Asian ingredient made from red chiles), we're marinating cucumber with tart-sweet rice vinegar and nutty sesame oil. This tasty chicken stir fry is a quick mid-week meal with a kick of chilli heat that you can get on the Coat the chicken in a dusting of cornflour, salt and pepper, then fry in a wok with oil over a high Add hoisin and oyster sauce for an earthier sweet/salty flavour.