My Chicken & Chorizo Enchiladas. 😁.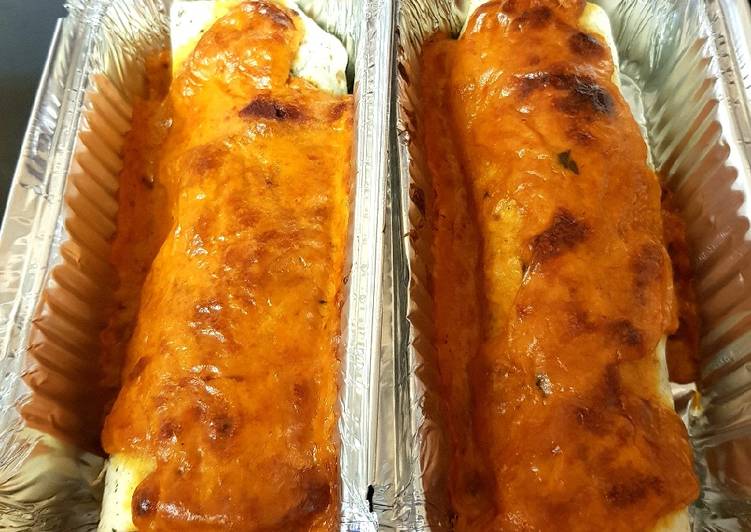 You can have My Chicken & Chorizo Enchiladas. 😁 using 17 ingredients and 9 steps. Here is how you achieve it.
Ingredients of My Chicken & Chorizo Enchiladas. 😁
Prepare 2 of Wraps.
Prepare 1 of Chicken Breast cut cubed small.
You need 1/2 of a length of a Chorizo diced really small.
You need 1/4 of of Medium onion diced.
Prepare 1/4 Tsp of Black cracked pepper.
Prepare of No salt.
It's 1 of yellow Bell pepper diced.
It's 1/2 Cup of frozen loose Sweetcorn.
It's 1 tsp of fresh Basil.
Prepare 1 tsp of tomatoe puree.
You need 1/2 Cup of Grated Mozzarella cheese.
It's 1 tbls of Worsestershire sauce.
It's of Sauce.......
You need 1/4 cup of double cream.
Prepare 1/2 cup of mozzarella grated cheese.
Prepare 4 tbls of milk.
You need 2 tsp of tomato purèe.
My Chicken & Chorizo Enchiladas. 😁 instructions
Cut up the chorizo and Chicken. You only need a quater of this size chorizo..
Heatup a little olive oil add the onions and then the chicken fry until the chicken is all coloured..
Chop the Onion and Pepper and chop Basil.
Next add the black pepper and then the corn then the chorizo.
Fry for 5 minutes then add the peppers and basik. Next the tomato purèe. Add the grated mozzarella cheese stir to mix in then add it to the wrap..
Next add the worestershire sauce. Then add to wrap and roll firmly. Place them in an ovendish and pour over the cheese sauce..
Sauce. Using the same frying pan add 1/4 Cup Double Cream. Then add 2 tbls tomato purèe. Then add the mozzarella cheese to it add on the heat and stir.
Pour over the Enchiladas add to a preheated oven 180°C for 10 minutes..
Serve it with french fries or salad..